If you've logged into Twitter over the past few days, you were likely greeted with the following message upon sign in:
"We're updating our privacy policy to bring you a more personalized experience. We'll soon be making Twitter more relevant by using your visits to sites with Twitter content. And we've given you even more control over your data."
This might come as a concern for some, and it should.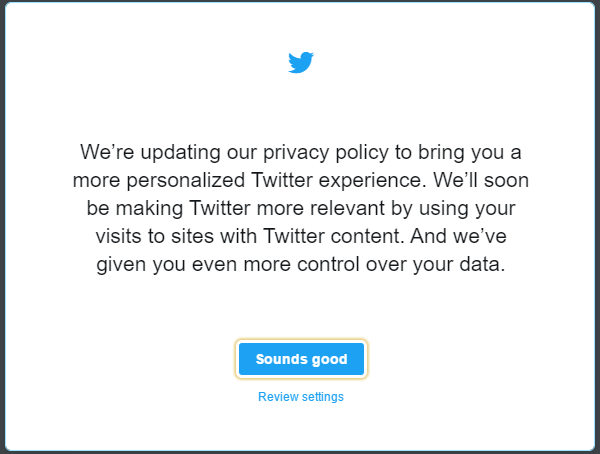 Over the early years, Twitter had demonstrated steady growth through its IPO, the size of its user base, average number of tweets sent, but also through acquiring a variety of smaller tech. startups that showed promise in their beginning stages of development. However, recent years have been a different story.
Twitter, today
In recent times, Twitter has been under scrutiny for its lack of growth and innovation. In fact, in 2015, for the first time in its existence, Twitter announced a decrease in the size of their user base by 12%. After its Q4 earnings report for 2015, the company's stock began to slide, and continued to see record low stock prices.
Twitter's only real innovations in recent years have revolved around streaming live video, both through major events like NFL football games, but also through live streaming your daily life via  its acquisition of Periscope. While these innovations have shown some success, the company is still not living up to expectations when it comes to growing and innovating.
It's evident that these recent changes from Twitter are in direct correlation with the company's struggles in recent years in order to help them boost their bottom line. Big data is extremely valuable, and Twitter already has an infrastructure in place to begin tracking user data on a much greater scale.
Privacy Policy Changes
The most concerning piece of this Privacy Policy change message from Twitter is this:
In short, this means that Twitter is going to be largely increasing the number of trackers and tracking attempts embedded in third-party websites (e.g. when you see a "share this on Twitter" link on a news article) across the web. While some individuals may be okay with these changes in the name of "relevant content", it's clear that Twitter has turned to data gathering and sharing on a much larger scale.
Additionally, the last phrase "And we've given you even more control over your data," almost feels like an afterthought. Regardless, it is somewhat comforting knowing that they're giving users the option to opt-out of these new settings. Also, we've learned that ignoring this Privacy Policy message from Twitter will enable all new privacy settings by default, so don't ignore!
The new settings that make us the most nervous are personalization based on location:
1. Personalize based on the places you've been: While this seems like a good idea for staying on top of local news stories, it basically means Twitter is tracking you everywhere you go, using the Twitter app on your phone (if you approve access), or if you add a location to a tweet.
2. Tracking where you see Twitter content: This is Twitter outlining the fact that they'll be largely increasing their web tracking presence on third-party websites.
3. Data sharing partnerships: This is allowing Twitter to share "certain" user account information and personal data with partners (i.e. marketers and advertisers).
We'd highly recommend at least reviewing your Twitter account Privacy, Personalization and Data Sharing settings.
To do so, login to your Twitter account, and navigate to your settings page. Once there, click "Privacy and safety" from the menu on the left side of the screen. Then, look for the setting that reads "Personalization and Data", and click the 'Edit' button.
Twitter's Tracking
Most people are aware that companies are tracking their every move online, whether they like it or not.
Twitter, like other data aggregators, can track your personal data in a variety of ways. For example, Twitter is always analyzing Tweets and engagement within the platform, and Twitter is also constantly providing suggestions of people to follow based on people that you already follow.
However, Twitter's tracking doesn't stop when you leave the website or stop using the app. Any time you see a Twitter button on another website, they're collecting data about you. Any time you "sign in with Twitter", they're collecting data about you. Any time you share something on Twitter from a third-party website, they're collecting data about you.
That said, with these new Privacy Policy changes, the question becomes: how much more information can they actually track?
Conclusion
It's clear that Twitter has been struggling in recent years, and scrambling to come up with new streams of revenue. These Privacy Policy changes are exactly that: a new way for Twitter to increase its bottom line.
Blur by Abine helps protect you against Twitter's tracking attempts on third-party websites, so they can't connect your data and build a profile about you. Additionally, Blur keeps Twitter's trackers from following site to site by blocking repeated tracking attempts and limiting Twitter content on third-party websites. Remember, Blur is extremely customizable, and with Blur you can choose when and where you want to view Twitter content on other websites.
While it's hard to blame Twitter for its changes, it will be interesting to see how much personal data of its user base the company is willing to sell in order to get back on track.